by Eiluned (brbshittoavenge)
Rating: Explicit / NC-17
Summary: Clint and Natasha slept together a long time before they actually slept together. Avengers movieverse; Clint/Natasha. Five + One, Sleeping, Cuddling, Spooning, Comfort, Partnership, Developing Relationship
Excerpt:
When she finally emerged from the bathroom, she saw that it had been two hours, and she took pity on her poor… partner? That sounded too impersonal for what they were slowly developing. Boyfriend just sounded juvenile, though sometimes that fit Clint pretty well. Lover?

Not yet, but he would be soon enough.

She tugged on a pair of yoga pants and a t-shirt and pulled her hair into a damp ponytail, and she set out for his quarters.

What she found when she got there was… unexpected, to say the least.

There were rose petals everywhere, and how he had acquired that many rose petals in the last two hours (it was the middle of the night, after all) she had no idea. She could see the flickering glow of candles in the bedroom, and there was some kind of sexy music playing softly.

Natasha couldn't help herself. She giggled.

Clint's head popped around the bedroom door, his expression so perfectly surprised that it made her giggle harder, and Natasha just wasn't the type of woman who normally giggled.
Rating: Explicit
Summary: They're stuck in a building that's about to fall apart, pinned down by energy weapon fire, when Clint asks her to marry him.
Excerpt:
They're stuck in a building that's about to fall apart, pinned down by energy weapon fire, when Clint asks her to marry him.

Natasha laughs at first, a short, humorless snort, because this is one of their jokes. Clint makes jokes about the two of them getting married and picking out matching holsters and sniper rifles, and she laughs in response, and they go back to whatever it is they're doing.

Marriage isn't something she's ever given serious thought to, no matter how much she might love Clint. Marriage comes with an inherent sense of permanence that she doesn't know how to deal with. Before they were Avengers, they were chameleons. They slipped in and out of identities as easily as changing clothing, though they always did end up together in the end, as Clint Barton and Natasha Romanoff. But as Avengers, they are Hawkeye and Black Widow, and their faces are known, even if their real names aren't.

Clint doesn't laugh, and Natasha is suddenly gripped by that idea of permanence. Is that what he wants? Is that what I want? she thinks, and another blast rocks the building, sending a shower of concrete chips and dust onto them in their hidey hole.
Rating: Explicit / NC-17
Summary: Starting a relationship with your partner is against S.H.I.E.L.D. policy, but it's not like Clint Barton cares about the rules too much. An undercover mission dredges up feelings that can't be buried. Avengers movieverse. Clint/Natasha.
Notes: Set several years before The Avengers movie. Thanks to Kat for her help with the Russian dialogue! Artwork made by Eiluned.
Click the link to read at AO3!
Excerpt:
The song playing was vaguely familiar, but Clint was way too distracted to place it. Her skirt had ridden up when she straddled him, exposing even more of her creamy pale thighs, and the fabric slipped up a little more when she spread her knees wider. Resting her hands on his shoulders, she tipped her head back for a second and he caught sight of the bruise on her neck. She had tried to hide it with makeup, but it was still obviously a bite mark, and the knowledge that he had put it there sent a thrill of arousal through him.
His breath whooshed out of his lungs as she pressed herself against the bulge in his trousers, her hips moving to the distorted whine of a guitar. She was hot against him, and with the next roll of her hips, he could see a flash of black lace panties under her skirt. Hands slipping down to the curve of her hip, he pulled her forward a little more, pushing his hips up against hers in a way that would probably get him thrown out of the club if a bouncer saw.
She made a sound that he felt rather than heard, a little "uh!" let out on a sigh, and he looked up to find her giving him a look that was equal parts reproving and aroused. "Stop it," she whispered, leaning close and rubbing her breasts against his chest.
"You stop it," he rumbled back, sliding his hands down and then back up her smooth thighs.
Oh my god, you guys. I'm totally in love with the fic that Amanda and I wrote. I think we'll be posting it tomorrow, and I just finished a final proofread and… OMG. LOVE IT.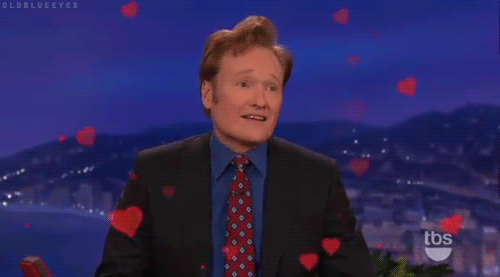 Get your fire extinguishers ready, fangirls, because we are going to set your panties ablaze.
Arrival
by Eiluned
Summary: "Clint couldn't believe how tiny she was, wrapped up in a blanket and nestled in his arms. She was sleeping soundly—he knew that he had had a very long, tiring day, and he wasn't even the one being born." Clint/Natasha; Avengers movieverse.
Rating: G
Notes: Unapologetic babyfic. Amanda requested Clint cuddling with a baby, so this is for her. :D Click the link to read on AO3.
—
Clint couldn't believe how tiny she was, wrapped up in a blanket and nestled in his arms. She was sleeping soundly—he knew that he had had a very long, tiring day, and he wasn't even the one being born. Her little face was scrunched up at the moment, dreaming about… whatever it is newborn babies dream about. Milk? Strange lights at the end of tunnels?
Whatever it was, it was making her forehead wrinkle up. Shifting her slightly, he stroked his thumb over her forehead, smoothing back the curl of red-blonde hair sticking out from under her little cap.
She let out a gusty sigh and opened her eyes, giving him a very thoughtful look that reminded him so much of Natasha that it made him chuckle. "Hey, you," he murmured. "Remember me? I'm your daddy. We met earlier."
She was absolutely beautiful, and Clint couldn't believe he'd had a part in making her. Blinking up at him, she wiggled around a little bit, and one tiny hand popped out of the blanket. He stroked her fingers, and when he touched her soft little palm, she grabbed his finger in a death grip.
Leaning down, he brushed a kiss against her forehead. And then she started to wail.
"Ssh! Ssh!" he whispered, but it was no use.
"Are you annoying our daughter?"
Looking up, he saw Natasha sitting on the edge of the hospital bed, giving him a crooked grin. "I swear, I just kissed her," he said.
"Aw, don't worry," she said, getting up and taking the crying baby from him. "He makes me want to cry when he kisses me, too."
By the time Natasha had settled back on the bed, the baby's cries had quieted into little whimpers, and it quickly became obvious that Clint wouldn't have been able to give her what she needed anyway. When the baby was nursing happily, Natasha looked up at him again. "C'mere," she said, patting the mattress beside her hip.
He climbed onto the bed beside her, wrapping an arm around her shoulders and cuddling close. "So what should we name her?" he said, kissing Natasha's cheek. "I was thinking Indiana."
Natasha cocked an eyebrow at him, and he stifled a laugh. "What? That's a great name. We could call her Indy," he protested.
"We named the dog Indiana," she deadpanned.
"I knew there was a reason I love you so much."
Her lips curved up into a smile. "I was thinking Olivia," she said.
"Olivia," he repeated, rolling the name around on his tongue. "I like that. You know, I still can't believe we made her. She's perfect."
Natasha turned her head and gave him a long kiss. "We're a great team, aren't we?"
A year ago, if someone had told Clint that he would be a father, he would have laughed. Now, as he held Natasha and their daughter, he couldn't imagine his life going any other way.
I need fluffy, cuddly fic, guys.
If you write me even the tiniest bit of schmoopy Clint/Natasha fic today, I will bake you internet cookies and love you forever.
In which Natasha has a crappy day, finds Clint in her bathtub, and nearly shoots him.  Sexytimes ensue.  Explicit, baby, aw yeah.
Edit: FIXED THE LINK.  Sheesh, I really should preview this stuff before posting it.
Summary: Tony's not particularly observant when it comes to people, but Natasha Romanoff is pretty intriguing.
thepascale gave me a prompt. I hope I delivered. ;)